IRISH PARISH RADIOS

In the late 1990´s some churches in Ireland started to transmit their masses live on CB-frequencies to reach sick, housebound or disabled persons who were not able to attend the mass in the church. All those early activities were unlicenced. But the popularity of this service was growing, and more and more churches started to transmit their masses via radio.
In 2006 the Commission for Communications Regulation (ComReg) in the Republic of Ireland started issuing so called 'Wireless Public Address System' (WPAS)-licences. Those licences can be obtained for a small licence fee by religious or other community organisations for live transmission of public events. It has been decided that this service is not a broadcasting service and therefore the licencing body is ComReg and not the Broadcasting Commission of Ireland. The reason for this are the following 4 points:

Spectrum will be allocated on a non-exclusive and non-interfering basis in a frequency band not used by BCI Sound Broadcasting Contractors.
The system is to be used for unabridged wireless retransmission of audio from a public address system that is associated with a public event.
The service will only be available on a non commercial basis (for local community users).
The service will not be available for reception on standard domestic broadcast receivers " 1)
The frequency range allocated to WPAS is 27600-28000 kHz, transmissions are allowed in AM or FM mode with CB-type transmitters. Maximum allowed ERP is 1 Watt in AM modulation and 4 Watts in FM modulation, the antenna height must not exceed 10 metres above ground level.
Nevertheless, there might still be some unlicenced activity outside the allocated frequency range.
There are similar licences available in the UK, there it is called 'Community Audio Distribution Systems' (CADS). In the UK the allocated frequency ranges are 26965-27405 kHz and 27600-28000 kHz.
The question is, how long this service will be used in the future, as time and technolgy goes on. A growing number of churches nowadays stream their masses live in the internet.
When to listen
Churches equipped with a parish radio system normally transmit every mass, no matter if it´s a regular mass, a wedding or a funeral. Smaller churches often have only one or two masses on the weekend, bigger ones can have masses every day during the week and up to 4 on Sundays. The most stations active are of course Sunday morning to Sunday noon, but there is activity on all days of the week. The chances to receive these services depend on your location. At some locations the best time are the autumn months in the years around the solar maximum, at other places it´s the Sporadic E-season in summer.
How to identify the churches
As Parish Radios don´t send any station identifications, the question may raise how to identfy the churches. Well that´s more time consuming than receiving the stations – you have to do a lot of research in the world wide web – and often without success. There are two "main sources" during the mass, that will give you some information for further research. First the parish news, from which you might get geographical names or events you can use. As many parish newsletters are also published on the internet, you may get some hits when searching. Second the Prayers for the Faithful where the names of parishoneers are mentioned who died recently, with this information you can search at sites like rip.ie

How to get verifications
Forget everything about reception reports you know. Don´t use technical vocabulary. Write a personal letter, enclose a recording, explain why you think that the recording is from church xyz, and ask if they can listen to the recording and verify that it is really them. You may also include a prepared verification card (PPC) and ask them to return ist signed and stamped if it is really the church you have been listening to. Then the chance to get a reply is suprisingly high. Addresses can be found by doing an internet search for the church you heard. If the parish has no own webpage, at least the main data is listed on the website of the diocese to which the paris belongs.
A list of churches identified so far compiled by myself with the help of some fellow Dxers can be found at: http://udxf.nl/WPAS-List-February-2016.pdf Please don´t skip the introductional words.
(Remark: the addresses mentioned in the list may not work anymore this way, as Ireland introduced postal codes in the meantime)
1) http://www.comreg.ie/media/2016/04/WPAS-Licence-Application-Guideleines0517R1.pdf
(Article by Patrick Robic, Austria - July 2019)
- - -
Here now some examples for QSL-replies, and what you might hear:
1) Saint Josephs Church, Mountmellick, County Laois - listen to it: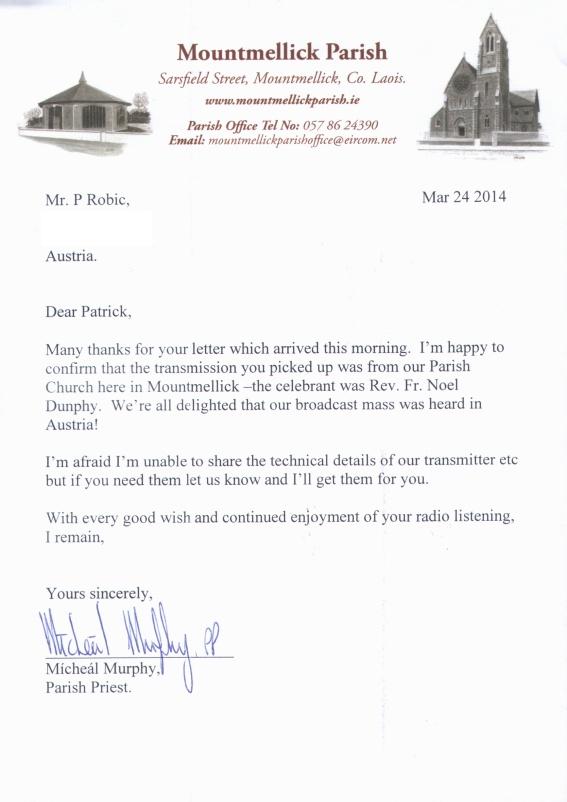 2) O'Connell Memorial Church, Cahersiveen, County Kerry - listen to it: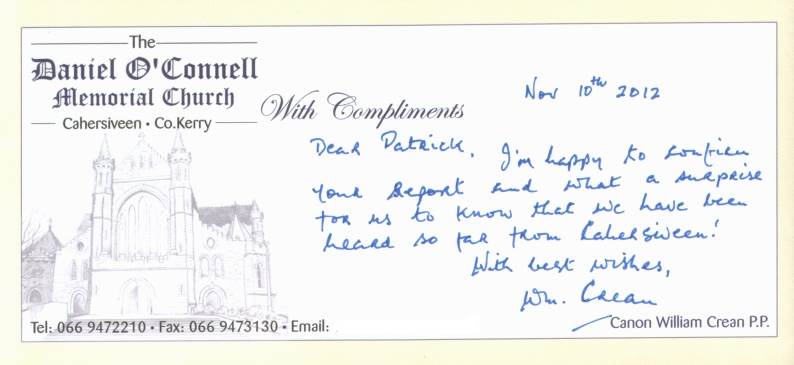 3) Saint Andrews Church, Kilfinane, County Limerick - listen to it: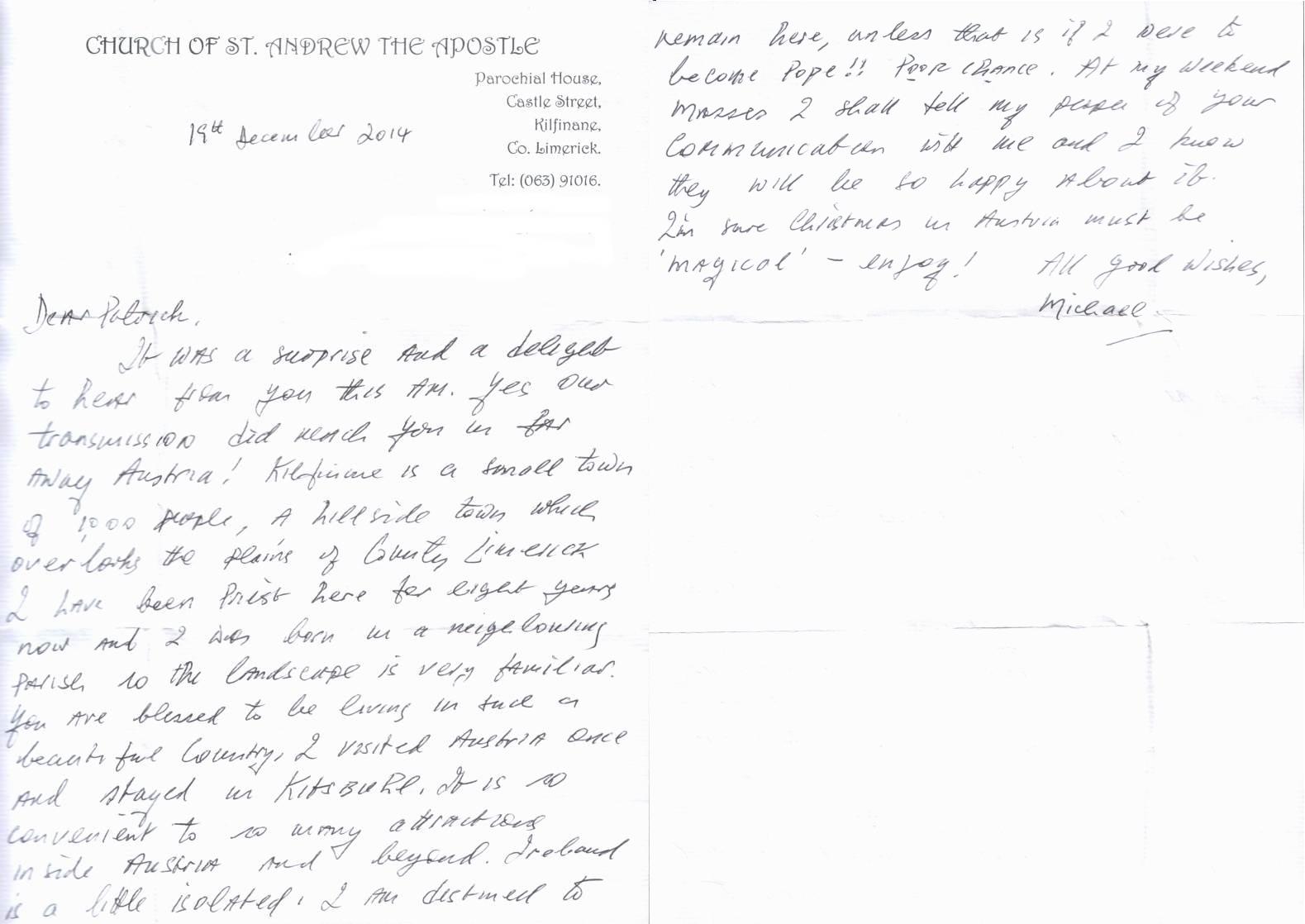 4) Church of the divine Word, Marley Grange, Dublin - listen to it: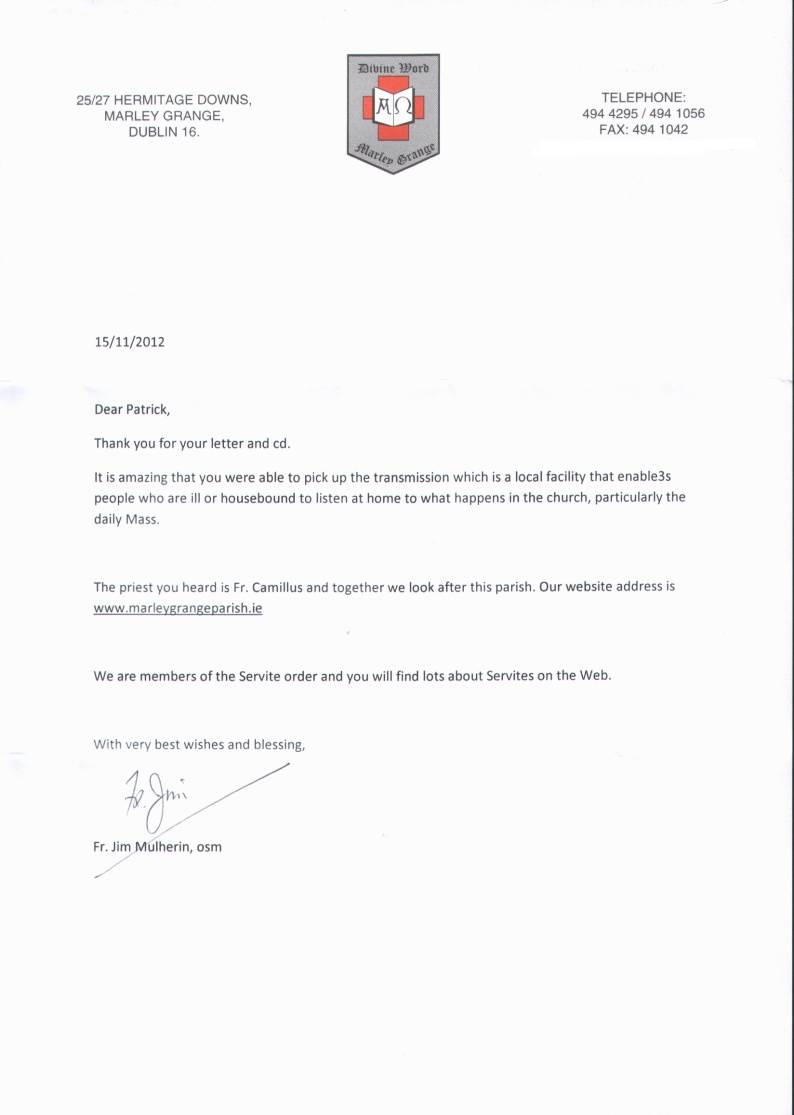 5) Church of our Lady of the Rosary, Limerick, County Limerick - listen to it: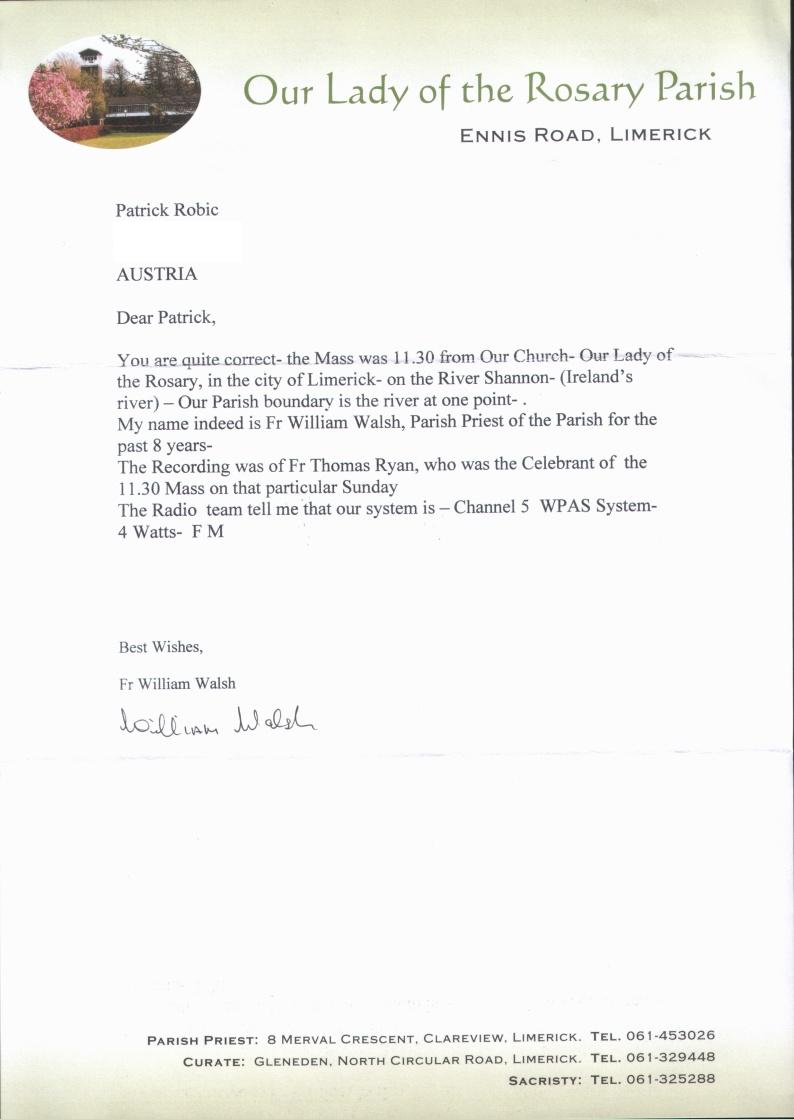 6) and here, at last, a more technical picture, showing how an antenna used for this service might look like:
these pictures were taken in 2019 from the Church of the Immaculate Conception & St. Killian, Clondalkin, Dublin (by rb)
.